The city has launched an initiative targeting new and expecting moms promoting the benefits of breastfeeding called Latch on NYC. Starting this September, city hospitals and some private hospitals will no longer offer formula to new moms, unless moms specifically ask for it or cannot breastfeed.
You may have seen the posters in subway stations. The goal is to educate expectant parents on just how important breast milk is to the development of infants. Babies who are breastfed are less likely to get ear, respiratory and gastrointestinal infections than formula fed babies, and are also less likely to develop asthma. Breastfeeding also benefits mothers, as women who breastfeed have a reduced risk of ovarian and breast cancers. But as with most city initiatives, there's controversy.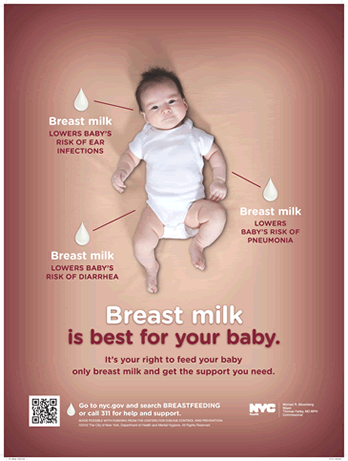 Even supporters of breastfeeding aren't exactly on board with the city's plan. The issue isn't questioning the importance of breast milk but rather the importance of the mother's choice. The city says hospitals are pushing formula and deterring mothers from deciding to breastfeed, and by preventing hospitals from freely giving out formula, mothers are able to make informed decisions.
Mamas Poll:
Do you think the city should get involved in how you choose to feed your baby?